Collaborations across the North Atlantic – Reflections on the 2017 Irminger Sea Regional Science Workshop
Late last year, more than 30 researchers from countries spanning the Atlantic met in Southampton, UK at the National Oceanography Centre to foster coordination of research efforts focused on the Irminger Sea region. Of central importance to the workshop was to bring in young investigators.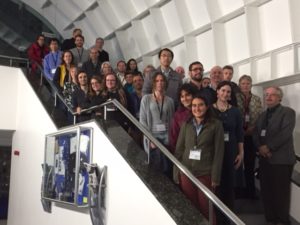 "The Irminger Sea workshop provided me with an incredibly valuable opportunity to meet and develop connections with others working in this region, and to gain a better understanding of the current state of our knowledge and areas of active research in the Irminger Sea and broader subpolar North Atlantic," reflects Hilary Palevsky, Postdoctoral Scholar at the Woods Hole Oceanographic Institution. "This was especially important for me at this stage in my career to have the opportunity to make these sorts of connections with people whom I had only previously known from reading their published papers."
The Irminger Sea region, west of Greenland, is a region of high wind and large surface waves, strong atmosphere-ocean exchanges of energy and gases, CO2 sequestration, high biological productivity, an important fishery, and the location of one of the OOI Global Arrays.
"Many of the participants were already using OOI data, and those that weren't were eager to learn more about the data and improve the time series going forward," says Mike Vardaro, OOI Data Manager. "I returned with many recommendations to improve data collection, processing, and distribution as well as requests for data, including inquiries about cruise opportunities and how to add to OOI infrastructure or deploy in the OOI area."
Some of the key recommendations noted were easier bulk download, expansion of ERDDAP, and improved quality control of DO, NUTNR, and PCO2A sensor data.
The overarching objective of the workshop was to coordinate international efforts to observe, study, and better understand the Irminger Sea region.
"The second Irminger Sea workshop saw the fruit being borne of the collaboration between OOI and OSNAP," says Bob Weller, OOI Global Array PI. "At the first workshop that collaboration resulted in siting the OOI moorings in line with the OSNAP array and adding instrumentation to achieve common sampling. This proved to be very successful. Further, the sampling of the air-sea fluxes and the biology and biogeochemistry at OOI Irminger drew high level of interest and provided the data for a number of papers and joint analyses now underway."
Check out the O-SNAP blog post written by workshop steering committee member Penny Holliday from the National Oceanography Centre.
Workshop foci were:
Summaries of present and planned observational, empirical, theoretical, and model-based efforts focused on the physics and biogeochemistry of the Irminger Sea region;
Presentation of results from recent observational campaigns;
Identification of key questions and hypotheses related to the physics and biogeochemistry of the region; discussion of sampling strategies to address those questions, including coordination of present, planned and new observational efforts;
Plans for collaborative analyses and publications;
Data sharing in support of coordination and collaboration.

Day one of the workshop featured presentations to share results of existing studies and plans for future studies and analysis. A full list of presentations can be found in the workshop report.
On the second day, participants worked in small groups to tackle specific discussion questions with the aim of catalyzing collaborative research, analyses, and publications.

Some questions included:
Does convection in the Labrador Sea and Irminger Sea have different behavior?
What are the drivers of extreme convection events?
What are the controls on productivity, the spring bloom, and ecosystems?
How do freshwater anomalies (from Arctic) propagate around the subpolar gyre?
What is the impact of the freshwater on oceanic and atmospheric variability?

Key outcomes of the workshop included:
Strong support for multi-disciplinary observations made by OOI platforms including the gliders
Strong support for continued efforts to collect surface meteorology and air-sea fluxes through challenging winter conditions, thus support for OOI to improve surface buoy
Reliance on OOI Irminger Sea Array continuing allowing Dutch LOCO mooring and German CIS mooring time series to now be collected by OOI going forward.
Download Workshop Report