The data collected by OOI arrays are transmitted through a cyberinfrastructure, making it possible for anyone with an Internet connection to download ocean data in real time.
Data are gathered by both cabled and un-cabled instruments located across multiple research stations in the Pacific and Atlantic Oceans. The data consists mostly of tables of raw instrument values, such as counts, volts, and other measurements.
Once acquired, the raw data are transmitted to one of three operations centers: Pacific City, directly connected via fiber optic cable to all cabled instruments in the Cabled Array; Oregon State University (OSU), an Operational Management Center (OMC) responsible for all un-cabled instrument data on the Pacific coast; and Woods Hole Oceanographic Institute (WHOI), the OMC for Atlantic coast-based un-cabled instrument data. The data from the operations centers is transferred to the OOI Cyberinfrastructure for processing, storage and dissemination.
Data are continually transmitted to one of three operations centers. Regional Cabled Array data are transmitted to the Pacific City Operations Center directly through a fiber optic cable. Data from all un-cabled instruments on the Pacific coast are transmitted to Oregon State University. All un-cabled instrument data from the Atlantic coast are transmitted to the Woods Hole Oceanographic Institution. These operations centers then transfer the data to the OOI Cyberinfrastructure for processing, storage, and dissemination.
Data Management, Storage, and Processing
The Rutgers Discovery Informatics Institute operates two cyberinfrastructure centers, one in Seattle Washington, the other at Rutgers, the State University of New Jersey.<
The primary computing servers, data storage and backup, are housed at Rutgers, which serves as the front-facing cyberinfrastructure portal access point. This entire network is then mirrored to the west coast over a high-bandwidth Internet2 network link in partnership with Pacific Northwest Gigapop. The data stores at Oregon State University and Woods Hole Oceanographic Institution continuously synchronize with the data repositories located at the east and west coast cyberinfrastructure sites.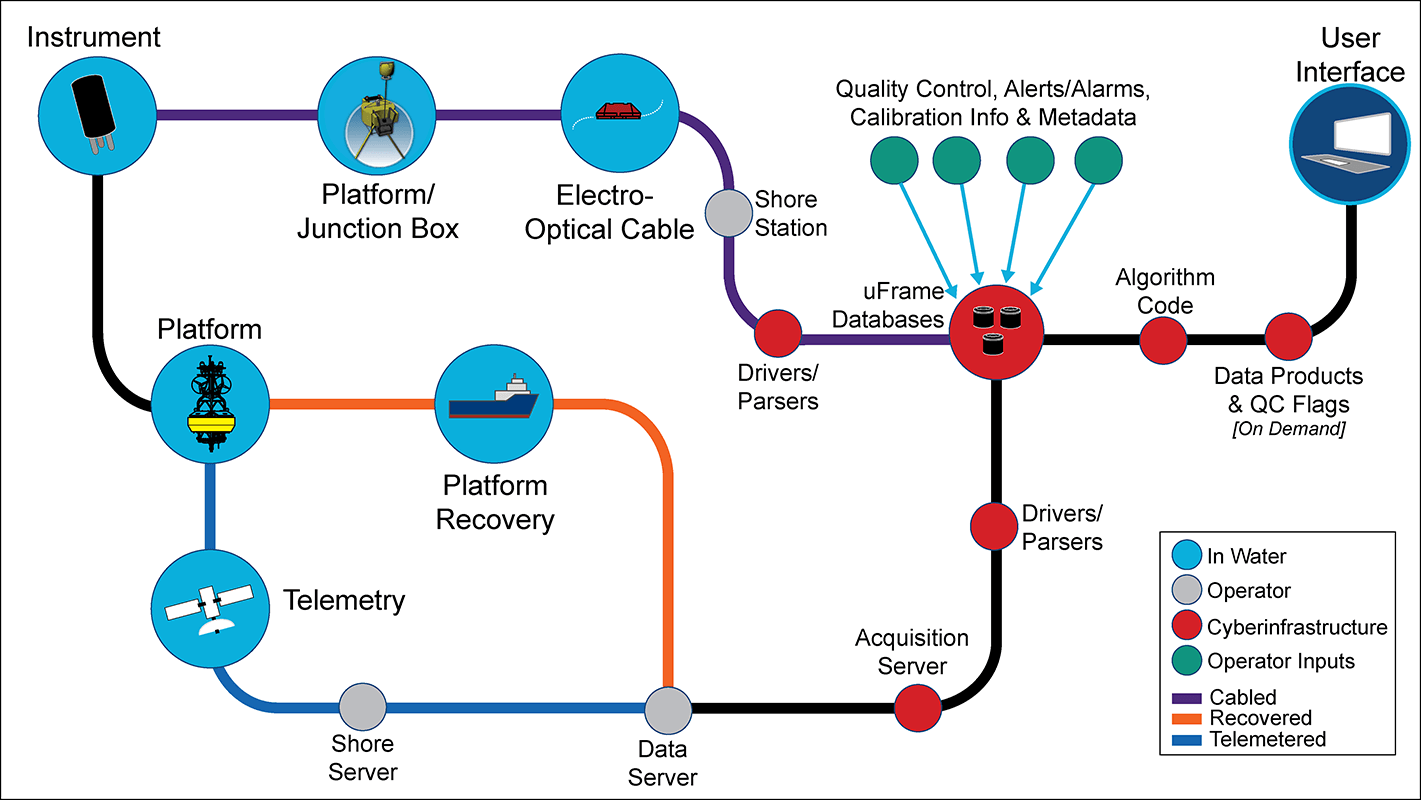 Data Safety and Integrity
Data safety and protection are ensured through stringent measures.
Data security is addressed through a robust and resilient network architecture that employs redundant, highly available next-generation firewalls along with secure virtual private networks.
Data integrity is managed through a Information Life-cycle Management architecture that integrates a redundant disk-based enterprise storage area network (SAN) and a tape-based robotic library. SAN is an enterprise-level storage network of multiple hard drives managed by an intelligent device manager, which reduces the data footprint by reducing data duplication, while maintaining data integrity and access performance through storage redundancy. Tape storage, a "last tier" storage that is not dependent on power or cooling, supports longer-term backup and archiving, disaster recovery, and data transport.
Public Data Access
The cyberinfrastructure provides software (OOI Net) to provide access to OOI data for scientists, educators, and the public to pursue answers to scientific questions.
The OOINet employs the uFrame Service-Oriented Architecture (SOA) software framework that processes the raw data and presents it in visually meaningful and comprehensible ways in response to user queries. OOI Net makes possible around-the-clock connectivity to bring sustained ocean observing data to users at any time, any place. Anyone with an internet connection can create a login on OOINet and access OOI data.