Ocean Visions: New RCA Video Tells Grand Visual Story
Ocean Visions – The story of the Regional Cabled Array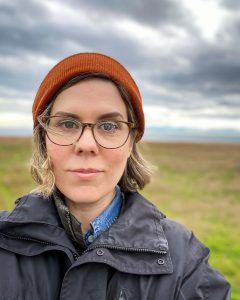 Sarah Smith is not your typical undergraduate. She is a 41-year-old communications major at the University of Washington (UW) Tacoma, who used her life experience and creative talent to produce a nine-minute video Ocean Visions that tells the story of the Ocean Observatories Initiative Regional Cabled Array. The production is stunning and Smith achieved her goal of showing the human side of science. Smith served as writer, producer, and director of the production.
"I wanted to show the human side of science…that people come up with big ideas like the Regional Cabled Array.  And, these big ideas that take years to come to fruition and so much money to realize, " Smith explained.  "I also wanted to convey that there are these dedicated people out there working hard at what they are passionate about, continually asking questions.  While people might romanticize ocean research, it's really hard work.  It's dangerous and conditions can be wild. I wanted viewers to see and understand all that it takes to make these big ideas happen."
Smith's former work as a photographer and visual artist is apparent in this nine-minute video, about the Regional Cabled Array, which provides electricity and Internet to >150 instruments measuring ocean and Earth conditions.  Working initially with UW oceanography professor Cheryl Greengrove, Smith had hoped to be aboard the R/V Thomas G. Thompson this past summer with the scientific team as part of their educational VISIONS program.  COVID-19 put an end to those plans.  Instead, she spent hours and hours going through footage in RCA's considerable archive of video and images of life below the surface, Interactive Oceans.  (She's hoping that the stars will align and a trip aboard the R/V Revelle will be possible next summer during RCA's regular operations and maintenance cruise.)
"It's hard to estimate how many hours I spent on the project. Sometimes it felt like I was living and breathing the project, but it was an incredible experience for which I am grateful," she said.  Smith did everything from schlepping the camera equipment, making sure the lighting was right, asking the questions, and spending hours in the editing room to ensure the story of the RCA was accurate and compelling.
Smith will graduate next month with a major in communications.  She has an internship lined up after that with NASA where she will be working with its STEM program connecting students with the International Space Station.  From there, she plans on heading to graduate school in a cinema and media studies program.  "I just want to keep exploring. Video and film are such  important communication tools, which are constantly evolving.  I want to be part of that changing story to continue to tell stories of people who doggedly follow their curiosity as did those involved in making the RCA a reality."