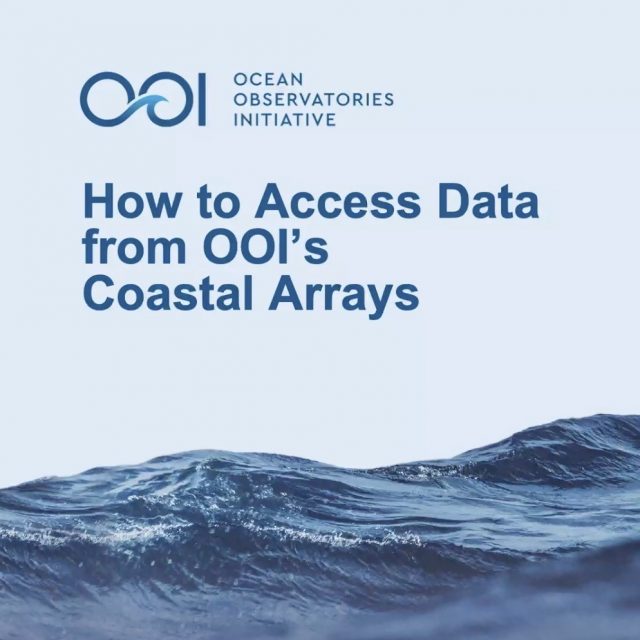 [video width="670" height="384" m4v="/wp-content/uploads/2020/04/OOI-F6.mp4"][/video]
OOI data team members have developed a new toolbox for downloading data from the Machine-to-Machine (M2M) interface using MATLAB, making data access as easy as 1, 2, 3. The work expands on the existing tools available on OOI. This new toolbox covers data from moorings, gliders, and profilers in the OOI Coastal Arrays and can easily be extended to other research platforms. A video tutorial on how to use this new tool is provided above. (A pdf of the tutorial is provided below).
In three short steps – define the mooring, node, and instrument – users can easily and quickly access relevant OOI data. "This new approach eliminates some steps and makes it easy for anyone to find and access data they are looking for, "said Jonathan Fram, OOI Endurance Array Project Manager at Oregon State University (OSU). "We found this new approach really streamlined data access using the M2M interface and we are certain other OOI data users will find it similarly helpful."
Developed by OOI OSU team members, Craig Risien and Russ Desiderio, these new tools are part of our ongoing effort to simplify access to OOI data to encourage its broader integration into scientific research and classroom content. A tutorial showing how to use MATLAB to access OOI data can be viewed here.
Other members of the OOI OSU team, Chris Wingard and Ian Black, are testing Python and R tools to explore OOI data, as well. Once the tools have been tested and vetted, they will be available along with other community-generated tools here.
This new tutorial adds to others that have been developed to help users integrate OOI data into their science.
Read More