Posts Tagged 'R/V Endeavor'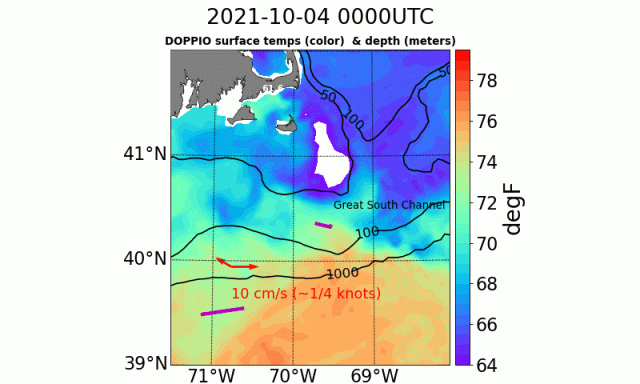 The potential of sharing ocean observations to determine ocean conditions in real-time was highlighted in last week's update of the Environmental Monitors on Lobster Traps and Large Trawlers (eMOLT) project.  EMOLT is a non-profit collaboration of industry, science, and academics focusing on monitoring the physical environment of the Gulf of Maine and Southern New England shelf.
Explained in the update, observers at the National Oceanic and Atmospheric Administration (NOAA) were watching oceanographic activity at the Southern New England shelf edge as a warm core ring impinged on an area south of Nantucket. As shown by the purple worm in the animation above a drifter (deployed off F/V Lady Rebecca  back in June on Jeffreys Ledge) had drifted near the Great South Channel and seemed confused on which way to go.  After traveling along a fairly normal track, it had been affected by "eddies off eddies, off eddies."  Earlier last week, a sensor-laden  Central Falls, RI,  High School miniboat, deployed by the University of Rhode Island's R/V Endeavor, was entrained in the outer fringes of the actual Gulf Stream ring.The NOAA team used Ocean Observatories Initiative (OOI) moorings, which are just downstream of this area, to explore multiple variables throughout the water column to get a better idea of ocean conditions that aligned with the drifter's movements. The animation also shows the current velocity (red arrow) near 400 meters as reported by OOI's moored profiling instrument.
Read More