Posts Tagged 'Rutgers University'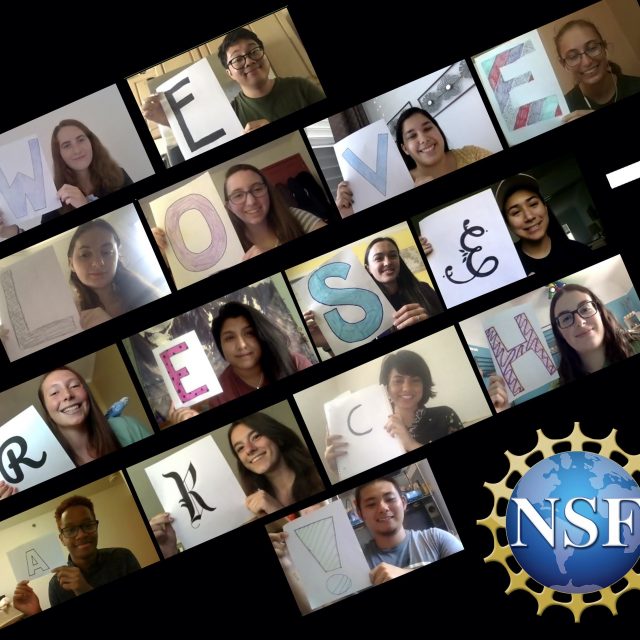 [media-caption type="image" path="https://oceanobservatories.org/wp-content/uploads/2020/07/Thank-you2.jpg" link="#"] Sixteen students spent eight intensive weeks during this year's virtual REU program. Credit: Janice McDonnell.[/media-caption]
Two weeks. That is the amount of time Janice McDonnell and Sage Lichtenwalner, Co-PIs of the OOI Ocean Data Lab Project, had to create an eight-week intensive, hands-on virtual program for Research Experience for Undergraduates (REU) students, who couldn't attend their original programs due to COVID-19 restrictions. McDonnell and Lichtenwalner jumped in with both feet and successfully pulled together a program for 16 undergrads from 16 institutions that will wrap up on July 31st. Not only did they have to develop a curriculum in short order, they recruited 17 mentors, who provided one-on-one mentoring for each of the REU students.
In 14 days, McDonnell and Lichtenwalner, working with colleagues at the Rutgers RIOS REU, developed a curriculum, which included two two-hour workshop sessions on Zoom every day for the first two weeks. The workshop was followed by six weeks where students focused on a research project using oceanographic data to answer a scientific question. They were helped by REU leaders and mentors along the way.
The initial workshop focused on students using a "baby data set" before working on something as complex as an OOI dataset or other similarly large dataset. "Initially, we gave them mini research projects that could be done in two weeks. This allowed the students to be collaborative and interactive, while learning Python as a tool using data to answer questions about the ocean," explained McDonnell.
The key to the program's success was keeping it engaging. The curriculum mixed up content, approach, and activities to ensure students stay involved on and off the screen. The team used a tactical approach – starting where students are and building upon their level of understanding. They incorporated a lot of different approaches, including think-pair-shares and an activity from the Right Question Institute, another NSF-funded project, which guides people to ask better research questions.
"We were constantly looking for opportunities to be interactive, reflective, and to give students the opportunity to apply their knowledge," added McDonnell.
Another technique used were Zoom breakout groups to supplement group interaction. These breakout sessions provided students with opportunities to work together, with mentors, and to get to know each other.
Breakout sessions were also used to meet members of a career panel in virtual personalized sessions."The career panel for this REU cohort was much more diverse than it is typically. The virtual nature of the interaction made it possible for people from all over the country to join in and participate," said Lichtenwalner. "We facilitated it in a nice round robin sort of way using Zoom's breakout function. Students chose their top choices, then met with them either individually or with another student. This gave them an incredible opportunity to meet people in careers that they might not otherwise have access to."
"I'm really proud of our REU," said McDonnell. "It's not easy to teach online but good learning can, and does, happen online and we were able to do that. And the collaboration that took place was really the secret sauce for making this all work. NSF program officer Lisa Rom and Science Assistant Rennie Meyers were committed to and worked really hard to find a solution to make the REU program happen in the middle of a pandemic. The students were great and so excited about the opportunity that we put together for them. And, the mentors went above and beyond the call of duty to help make this program work for the students."
Each week, for example, one mentor, Dr. Jessica Carriere-Garwood, of Rutgers University introduced her students to people in her professional circle at lunch time each week, with the opportunity to talk about what the students are doing and their interests. "That doesn't always happen in a regular REU. There are a lot of pluses and minuses of being virtual and this was certainly one of the pluses," added McDonnell.
Ed Dever, one of the mentors from Oregon State University, had this to say about his mentoring experience: "Janice and Sage did a remarkable job spinning this REU up on short notice. They mentored not just the students, but the mentors (well, at least this mentor!). Janice, Sage, and Christine Bean did an amazing job of building a virtual community of students and mentors on the fly. This virtual community provided a unique experience to the students in that the community was much broader than an in-person REU at a single institution. It took all of us out of our comfort zones and helped us grow. Throughout the whole process, Sage patiently guided REU students in technical aspects of using Python to access and analyze data."
The REU cohort will finish their research projects and present on 30-31 July. Of the 16 students, eight are using data from the OOI.
Citing the success of this first virtual REU, the team's National Science Foundation (NSF) program officer Rom pondered "Why don't we do this all the time, even if there isn't a pandemic?"
Based on the successful experience this summer, NSF's Division of Ocean Sciences is encouraging REU proposals for virtual REU's, and especially those that use OOI data. The deadline is August 26th this year. Apply here.
Read More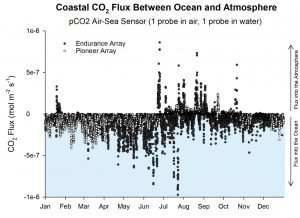 A new website of curated OOI datasets, called Data Nuggets, has launched.  It contains valuable resources ready for integration into educational activities. The nuggets explore various concepts common in upper-level high school and introductory college courses and are designed and packaged to be readily accessible to educators to integrate into their existing curricula.  Datasets were selected based on their quality and alignment with a broader OOI Science Theme.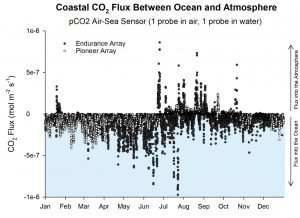 The nuggets were created as part of the National Science Foundation-funded OOI Synthesis & Education project, Ocean Data Lab,  conducted by Rutgers University and led by the Consortium for Ocean Leadership.
For now, four data nuggets are available:
2015 Axial Seamount Eruption
Seasonal Phytoplankton Blooms at High Latitudes
Flux of CO2 Between Ocean and Atmosphere
Seasonal Mixing of the Irminger Sea Water Column
The material provided in each nugget ranges from a description of scientific relevance to high resolution graphs to how use Python to pull and use OOI data in the classroom.  The nuggets are designed to support educators as they design their own activities using OOI data.
More nuggets will be continually added so check the website often.
Read More