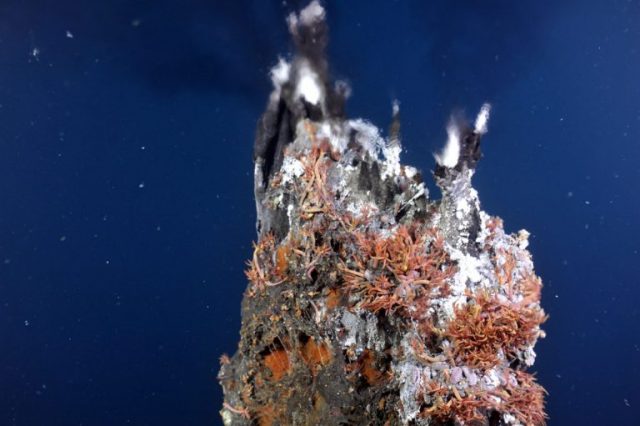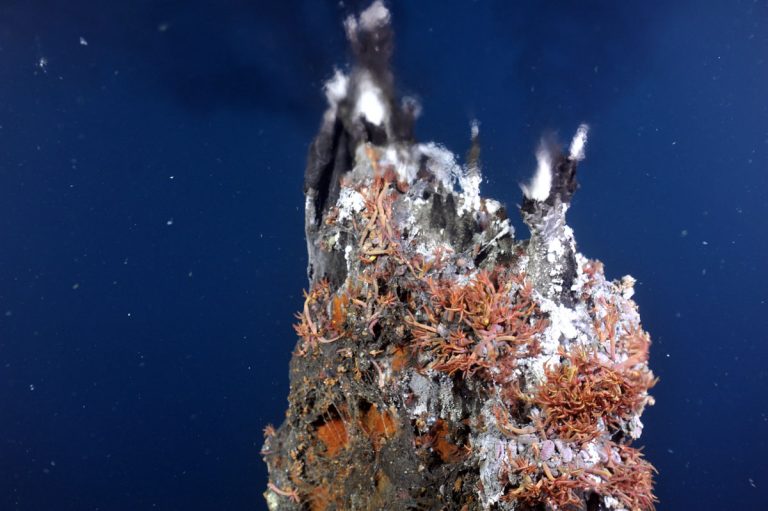 The University of Washington Regional Cabled Array Team left Seattle, Washington on 30 July for its annual Operations and Maintenance (O&M) Expedition for the cabled component of the National Science Foundations' Ocean Observatories Initiative (OOI), through September 4, 2021. This 37-day cruise is on the global class research ship the R/V Thomas G. Thompson, operated by the University of Washington, which is hosting the remotely operated vehicle (ROV) Jason, operated by Woods Hole Oceanographic Institution.
[media-caption path="https://oceanobservatories.org/wp-content/uploads/2021/07/J1265_20200808_0232_CAMDSB303_recover-copy-2.jpeg" link="#"]ROV Jason breaks the surface above the most active volcano off the WA-OR coast. Credit: UW/NSF-OOI/WHOI. V20.[/media-caption]The expedition can be followed through live video feeds from sea, daily updates, and stunning imagery. During the cruise, virtual visitors will be able to directly observe parts of the seafloor rarely seen by humans – the most active submarine volcano off our coast 'Axial Seamount' located about 300 miles offshore and nearly a mile beneath the oceans' surface. Here virtual visitors can witness one of the most extreme environments on Earth – underwater 700°F hot springs teaming with life that thrives on volcanic gases and lives in the complete darkness of the deep sea. The team will also visit the Cascadia Margin, spending time at Southern Hydrate Ridge where methane ice deposits are exposed on the seafloor with areas of dense microbial mats, and at shallower sites that are some of the most biologically productive areas in the world's ocean.
[media-caption path="https://oceanobservatories.org/wp-content/uploads/2021/07/overview.flow_.mosquito.sm_.r1772_03229-scaled.jpg" link="#"]A "Mosquito" flow meter (far left) and osmotic fluid sampler (far right) installed on microbial mats Southern Hydrate Ridge. Photo credit: NSF-OOI/UW/CSSF; Dive R1772; V14.[/media-caption]
The Regional Cabled Array (RCA) team is excited to get underway and looking forward to being out in the Pacific Ocean again. This is an immense logistics operation with ~ 20 trucks transporting >130,000 lbs of gear to Newport, Oregon in support of highly complex at-sea operations that have required months of planning, and testing of gear to be installed. During the cruise, the ROV will deploy and recover a diverse array of more than 200 instruments, several small seafloor substations that provide power and communications to instruments on the seafloor and on moorings that span depths of 2900 m (9500 ft) to 80 m (260 ft) beneath the oceans' surface. In addition, several novel, externally funded instruments developed by scientists in the US and Germany will be installed.
This year, the RCA Team will be joined by 19 students sailing as part of the UW's educational mission (VISIONS'21).  The students will be distributed over the four legs of the O&M Expedition. The VISIONS program has allowed >160 students to participate in this at-sea experiential learning program.
Virtual visitors will have the opportunity to share in the students' wonder and excitement through their blogs and daily updates here. Be sure to bookmark this site and check back often to share in what promises to be a life-changing experience for many students.  Share in their adventure!
Article by Deb Kelley, Principal Investigator for the Regional Cabled Array 
Read More