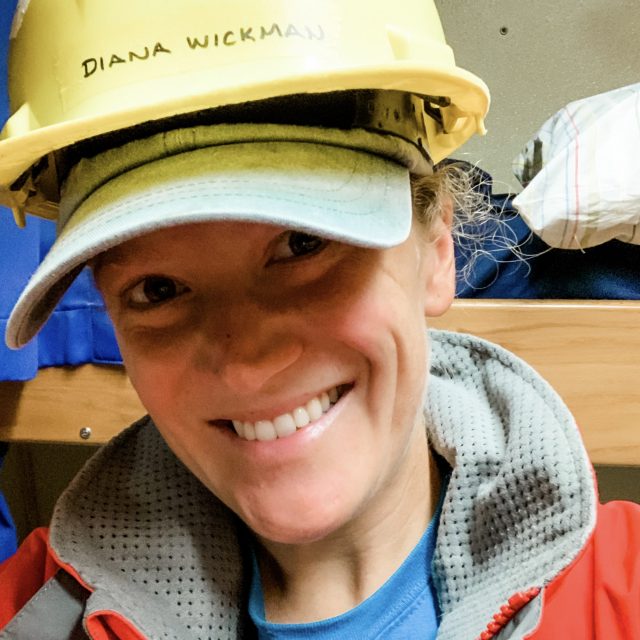 [gallery columns="5" ids="20622,20617,20615,20620,20612"]
Keeping OOI operational and providing data around the clock requires a whole team of people working behind the scenes. Because March is Women's History Month, we have taken the opportunity to ask a few women to share their stories about coming to and working for OOI. By featuring women who contribute to OOI's success, we honor those women, past and present, who have made OOI possible.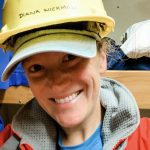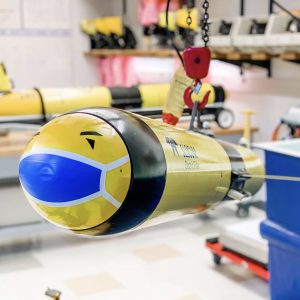 Diana Wickman
Senior Engineering Assistant II
Diana's job involves the operation, maintenance and piloting of OOI's fleet of Slocum Gliders and two REMUS 600 AUVs. She is based at Wood Hole Oceanographic Institution.
How did you end up at OOI? When people ask me this question I often say "by accident." I interviewed with OOI 11 years ago in early 2009 when the program was just kicking off. I had a degree in Marine Science from the University of Connecticut and was wrapping up a four-year stint in the US Air Force as a Satellite Communications Technician – an odd combo to say the least. I applied to be an electrical engineering technician but was instead offered the job of Configuration Manager. I had spent about three years doing configuration management when the program acquired its first Slocum Gliders. I remember walking past the gliders in the hallway one day, so shiny and yellow, and I was immediately hooked. I wanted to know all about these giant "tub toys." The rest is history.
What is the most challenging part of your job? The most matter-of-fact answer to this question is: keeping the ocean OUT of the inside of the robot, but that is only half of the challenge. The ocean, especially the areas OOI operates in, is really good at breaking things. The OOI Gliders are designed to be deployed with no hands-on human interaction for up to one year at a time. When I'm in the lab working on the gliders I cannot stop at "it is working today," I need to constantly be thinking "will this remain working for up to a year?"  It has been very challenging and also rewarding to learn a system well enough to be able to predict future failures and prevent them before they arise.
What do you enjoy most about your job? I'm only part joking when I tell people the robots are like my kids. They seem to have their own unique "personalities"; some are difficult and some are easy, some seem to love to be deployed and others seem to want to sit in the lab, some are warriors and others wave the white flag at the first sign of trouble. For me, the most rewarding part of the job is seeing the gliders succeed at their missions and come home after their long deployments. Finally getting them on the bench in the lab after a year apart is kind of surreal. I love the story each glider tells of its deployment through the engineering data it gathered at sea. In laying my hands on the vehicle again I become a detective of sorts: did the Glider have a run in with a shark, a near miss with a leak,  a collision with an ice berg?
Anything else you'd like to add? Having gone from the Air Force where my particular job was 96% male dominated, to ocean engineering which is also heavily male dominated (although there are many, many brilliant female engineers and engineering technicians at WHOI to look up to), I have no idea what it's like to work in a non-male dominated career field. Being a woman in a very heavily male dominated career field has its challenges. There have been times I have been the only woman in a meeting, or on a vessel during a cruise (and often in those cases have been the one in charge). I have experienced people make assumptions about my role on the team, or my ability to do my job due to my gender. Luckily for me I'm loud, largely oblivious, and occasionally overconfident, which has helped me break through some of those gender assumptions that may have held other women back. For these traits I both thank and blame my paternal Grandmother.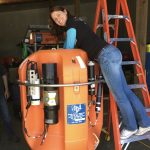 Trina Litchendorf
Oceanographer IV
Trina is part of the OOI instrument team at the University of Washington's Applied Physics Laboratory, where they  test, maintain and deploy all the commercially-produced instrumentation on the Regional Cabled Array.
What does your job entail?
There are over two dozen different types of oceanographic instruments deployed on the Regional Cabled Array – from A to Z – ADCPs (acoustic Doppler current profilers) to zooplankton sonars, and everything in between: CO2 and pH sensors, CTDs, digital still cameras, fluorometers, hydrophones, oxygen optodes, seismometers, and velocity sensors, to name a few. Every summer I go to sea off the Oregon and Washington Coast with the Woods Hole Oceanographic Institution's Jason remotely operated vehicle (ROV) team. The ROV team recovers all of the instrument platforms that were deployed the previous year and then deploys and connects new instrument platforms. After the cruise, in the fall, we send all of the instruments recovered during the cruise, about 135 of them, to their manufacturers so the instruments can be refurbished and calibrated. The instruments start coming back from servicing in the late fall and throughout the winter. During that time, I thoroughly test the instruments to ensure they are working perfectly before they are mounted on their deployment platforms in the spring. Then they go through a round of integration testing on the platforms before the cruise. All of this careful testing ensures high-quality data and a low failure rate once the instruments are deployed. Come summer, I am back out at sea, ready to repeat the yearly maintenance cycle.
How did you end up in this job? I started working at the Applied Physics Lab as a full-time employee in 2001. The projects I have worked on since then have involved everything from lasers, gas chromatographs, and infra-red imagers to underwater vehicles, such as Seagliders and REMUS AUVs (autonomous underwater vehicles). I also have been to sea numerous times for those projects. My familiarity with various oceanographic equipment and my sea-going experience made for a natural fit for the RCA Instrument Team, which I joined in 2015.
What is the most challenging part of your position? The cruises are the most challenging. They average about 40 days, give or take, and the work is non- stop. ROV operations happen around the clock and there is always a lot to do to get the instrument platforms ready to be deployed for the next dive. Every instrument must be powered on for one final check, the platforms must be rigged properly for the ROV, and every instrument on the platform must be photographed before we send it over the side. I also run some of the dives, sitting to the left of the ROV pilot in the control van and telling him or her the order of operations and which cables to plug in. These dives can sometimes last 12 hours or more and I usually pull a few all-nighters. During cruises, we have to come into port several times to offload all the recovered gear and load the next set of equipment, which we try to accomplish in a day or two. The cruises are like marathons and require a lot of stamina. It is also hard to be away from friends and family for so long, especially during the summer when Seattle has its best weather and I'm wearing a down jacket and wool cap because it's so overcast and cold offshore.
What do you enjoy most about your job? The cruises. As challenging as they are, the cruises also offer the greatest rewards. I enjoy working with the undergraduate students who go to sea with us for their first oceanographic cruises; their enthusiasm reminds me of my first time at sea. There are beautiful sunrises and sunsets to see, the full moon shining on the ocean is stunning, and on moonless nights, the Milky Way is visible and the stars are spectacular. Whales and dolphins occasionally swim by, and there are incredible things to see on the seafloor with the ROV's HD  (high-definition) cameras. My favorite part of the cruise every year is when we do photo-surveys of the hydrothermal vent fields and the lava flows at Axial Caldera. Seeing the interesting biology that lives at these depths and the unique lava and vent formations never gets old!
Anything else you'd like to add? In the early 2000's, when I was an oceanography undergrad at the University of Washington, my Geological Oceanography course was taught by Drs. Deb Kelly and John Delaney. One day, Dr. Delaney gave a presentation to our class and described a revolutionary way the oceans would be studied in the future: with regional scale ocean observatories that could send data, in real time, over the Internet to scientists around the world. This was years before the Canadian NEPTUNE array, the world's first such underwater observatory, had been deployed. I remember thinking what a fascinating idea that was. It's amazing now to be a part of it all, going to sea alongside Dr. Kelly, and deploying the instruments that I tested on the array. I look forward to the future and a day when Dr. Delaney's other vision is a reality: resident AUVs stationed year-round on the Regional Cabled Array, ready to be deployed immediately after an event such as an eruption at Axial Seamount.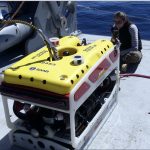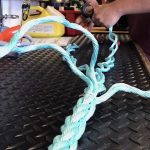 Meghan Donohue
Senior Engineering Assistant I                                                                                                                                  Meghan's job is ever-evolving. She recently changed from being a mooring tech at Wood Hole Oceanographic Institution, who served as the deck lead on multiple OOI cruises, to being a full-time OOI tech, who preps and builds the moorings for the cruises. Her new position allows her to play more with the computer side of things rather than focusing solely on mechanical issues.
How did you end up at OOI?  I was a hyper-focused child who knew from a very young age that I wanted to be an oceanographer. Everything I did, from going on my first real research cruise in high school on the R/V Connecticut to studying Marine Science Physics at the University of San Diego to getting my mariners license at the Maine Maritime Academy, eventually landed me here.  I worked for Scripps Institution of Oceanography as a shipboard tech, running the deck. I planned all the cruises, operated all of the oceanographic equipment and managed the computer systems on their smaller vessels. At Scripps, I met John Kemp, head of the WHOI mooring group, which eventually led to a job offer. The majority of the work I did for the WHOI mooring group was with OOI.
What is the most challenging part of your job? Balancing family and work has been my greatest challenge. Trying to rebalance that is part of the reason why I chose to change positions.
What do you enjoy most about your job? I like being able to teach the new techs and crew how to do the moorings.  And I enjoy splicing—the act of weaving a piece of line together. It's just relaxing. In addition to splicing line on the global moorings, I also splice the lines used for the Pioneer ARMS and profiler linepacks.  I have made all of the ARMS linepacks with various helpers for the Pioneer cruises since the fall of 2014.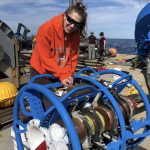 Kristin Politano
Faculty Research Assistant                                                                                                                                      Kristin works with a team at Oregon State University on instrument quality control, refurbishment, and data monitoring. She also manages mooring integration for the Endurance Array, which involves building and integrating the electrical components of the moorings with the instrumentation.
How did you end up at OOI? In 2016, I joined the Oregon State University branch of PISCO (Partnership for the Interdisciplinary Studies of Coastal Oceans) as their lead mooring technician. That position allowed me to gain valuable experience with the process of building, integrating, deploying, and maintaining mooring systems. I participated in several OOI cruises while I was at PISCO and was able to meet the team of people who build and maintain the Endurance Array. When they eventually had an opening for a new position, I jumped at the chance to work with them full time.
What is the most challenging part of your job? Every new deployment brings its own set of challenges, but most of the big ones are time-related. We work closely with vendors and suppliers to stick to a timeline during builds, but it's inevitable that delays in servicing or deliveries occur. When that happens, you have to be ready to move quickly when the parts eventually show up. Another big challenge is the lack of time to make significant improvements to the moorings. There are moments when we're building the systems that we think "wouldn't it be smarter it if we did it like this…" or "we could really make this more reliable if we changed that…" and often times the schedule doesn't allow us the flexibility to make those changes.
What do you enjoy most about your job? I really enjoy problem solving, and in a lot of ways, the moorings are just like big puzzles. All the parts and pieces have to fit together perfectly for the system to function properly. Building the moorings in our shop and running them through integration and burn-in testing allows us to chase down and solve any issues that could mean the difference between a successful deployment, and a mooring that's at sea for months with failed components. I like being able isolate and solve issues when they arise.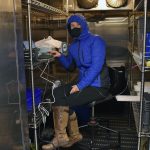 Jennifer Batryn
Engineer II
Jennifer works with (almost) all of the more than 1200 instruments that pass through the OOI program at WHOI. She is involved in the whole life cycle of the instruments, including testing, configuring, troubleshooting, deploying, data monitoring, and refurbishment.
How did you end up at OOI? I received my degree in mechanical engineering, thinking that I would end up in some sort of aeronautics or robotics field. I had never really considered a career centered around the ocean until taking part in a research program through my university. Through that program, we traveled to Malta for a month and collaborated with local archeologists, using small ROVs (remotely operated vehicles) and an AUV (autonomous underwater vehicle) to map out wells, cisterns, an underwater cave, and other features of interest around the island. Being able to work with interesting technology, travel and do field work, and collaborate with a multidisciplinary group really appealed to me, and I was sold on ocean research after that. I got involved with any ocean-based work I could afterwards, including internships at UC San Diego, National Geographic, and a summer fellowship at Woods Hole Oceanographic Institution. After college, I was thrilled to find my way back to WHOI, where I joined the OOI team.
What is the most challenging part of your position? Schedules and lack of time are the most challenging parts. Depending on how our cruise schedule line up for a particular year, it can be a surprisingly tight turnaround between recovering a set of moorings and when we need to make everything ready to deploy again. Inevitably, we have sensors and other components that come back from sea damaged. We then run into schedule conflicts with vendors and suppliers, and later discover instrument communication or sampling issues during our burn-in/testing period that need troubleshooting. The ship is going to sail regardless, which leaves very limited flexibility with timing, and sometimes there's a real crunch period leading up to a deployment. It can also be very challenging to ensure we get good data for the entire duration of any particular deployment. The ocean is a tough environment for electronics and sensors, especially when in the water for prolonged periods. We run into problems with biofouling, physical damage from severe storms, icing, waves, or vibrations, and limitations of battery life, reagent, and other consumables.
What do you enjoy most about your job? Going to sea to support deployments and recoveries of our moorings is a nice change of pace from working in the lab and is very rewarding (if not exhausting). It's great to see all of the work building up and burning-in of the mooring to that final end product of deployment in the ocean for six months to a year. It's also great seeing all the data successfully come through back to shore. Long, tiring days at sea are offset by seeing all the wildlife and other natural sights in the open ocean (starry nights with no light pollution, Northern lights, stormy seas, icebergs, etc.), and traveling to different ports and experiencing different parts of the world. My dog (Teddy) was actually a Chilean street dog that I met while down in Punta Arenas preparing a mooring before a cruise. I ended up falling in love and bringing him back home with me after the cruise. Hard to beat that! It also has been really rewarding to see more people actually using OOI data, knowing that the work we are putting in is going towards the creation of a really unique, long-term data set.
Anything else you'd like to add? Going to school in such a male dominated field, it has been neat to find a core group of really smart and talented women within OOI. Everyone comes from such diverse backgrounds, and yet we all found our way to this project. Naturally the whole team is great though. It is equal parts entertaining and inspiring to work alongside everyone on our team, whether in the lab, on deck deploying a mooring, or scraping barnacles after a recovery.
Photo Credits from top
Diana Wickman headshot and glider Photo: Diana Wickman©WHOI for both
Trina Litchendorf securing oceanographic instruments on the Science Pod platform prior to a cruise. Photo: Dana Manalang
Meghan Donohue Photo: ©WHOI
Kristin Politano Photo: OSU
Jennifer Batryn in the freezer of the R/V Armstrong working on instrument calibrations at a controlled (cold) temp during the Pioneer 16 operation and maintenance cruise. Photo: Rebecca Travis©WHOI
Read More